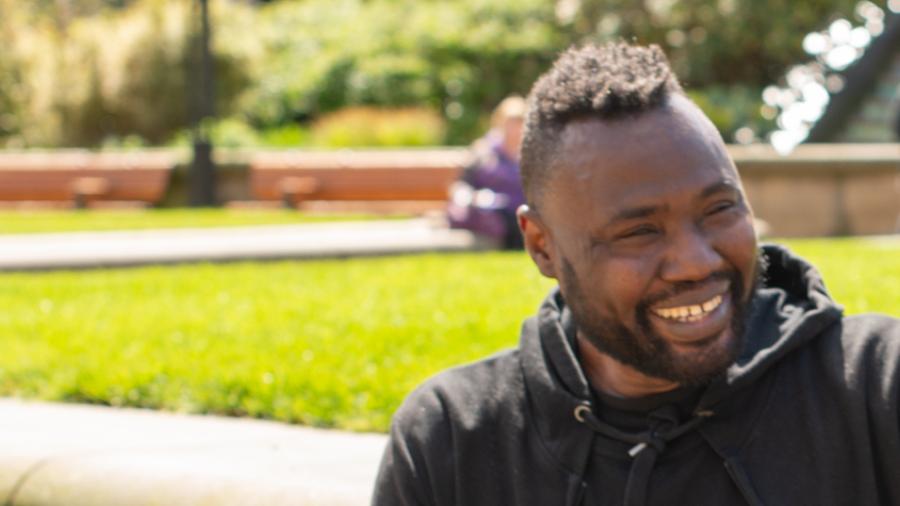 I arrived in the UK from Sudan (now South Sudan) in 2008. When I first applied for asylum, it took 2 years to get a response and I got an initial refusal. I went to court. The judge said I had a fair claim, but the Home Office didn't uphold the judge's decision afterwards and I was destitute. In 2011 I had an interview at ASSIST and they offered me temporary accommodation. I got involved with so many people there; I started volunteering and playing football. In 2017, I finally went to court again and received a positive decision.
10 years later, but I finally was given leave to remain!
The worst thing about being an asylum seeker was missing my family. Being dependent on others was distressing too. I would've preferred to take care of myself if I could, but I couldn't. I wasn't allowed to work. I found it very difficult having a lot of spare time.
The most important thing ASSIST provided was accommodation. I shared a place with other three clients. Before that I used to stay with friends, but I hated feeling like I was a burden you know? I couldn't contribute.
10 years have passed. I know I'm never going to get the time back, but I had to keep positive, looking at the bright side and believing there was light at the end of tunnel. It helped to receive good feedback from people. It also helped to volunteer in ASSIST, and see people in such desperate situations and think that there are people in worse situations than me. I used to think a lot 'why did this happen to me?'. I need to move forward as much as I can. I need to see beyond the horrible things going on in my country.
There has been war in South Sudan for over 40 years. The country is going backwards. Entire villages are tortured and burnt down, and those who survive are left to die through starvation or illness. Everyone can read information online and form their own opinion. I can't help but wonder, why isn't the international community putting more pressure on the country to end this horrible situation?
It was a beautiful country, but having a child going without a meal for a week, how can that happen? What can we do, when what is being done is simply not enough?
To people in the UK who don't know much about what asylum seekers go through, I want to say that we have to be open-minded about all individuals. Asylum seekers become asylum seekers for a good reason. Please don't judge without knowing all the facts.
Think that maybe one day the tables could turn. Anyone can find themselves in a situation where they need to ask for asylum. What would you like others to do for you if you were in this situation?