Our 'Sponsor a room' campaign aims to raise the £8,500 we need to fund our accommodation services throughout next winter
This amount will cover the cost of bills such as gas and electricity. But more importantly it will ensure that refused asylum seekers in Sheffield have a safe, warm and welcoming place to sleep, whatever the winter throws at us.
Please consider donating to the appeal to help us prevent the homelessness of refused asylum seekers in our city.
Progress so far!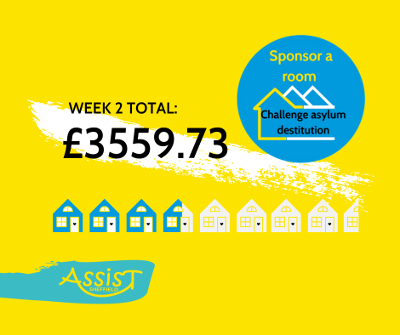 By the end of Week 2 of our campaign we'd raised £3599.73. A huge thank you to everyone who has already donated.
To sponsor a room...
You can donate any amount ...from £2.50 to fund a place in our nightshelter for one night...through to £502 to keep the nightshelter open for a month.
To make a donation...
Go to our Facebook 'Sponsor a room' page or donate via our website and let us know you are donating to the campaign! sponsoraroom@assistsheffield.org.uk
For Businesses
If you're a business interested in supporting us download our Business Pack below.
For Uni Societies
If you're a society interested in supporting us download our Society Pack below.
If you would like to pledge now please complete the form! https://forms.gle/959haD5MPPvrXJtZ7
Thank you!
The success of ASSIST relies on donations from our incredible supporters. We are so grateful for all the support we have received since we began in 2003. Just last year we were able to accommodate 110 people!